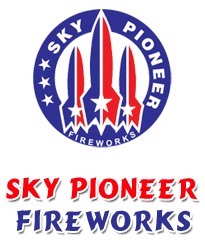 About Us
Great Pioneer Pyrotechnics Inc. has become one of the fastest growing fireworks suppliers in the world!
Sky Pioneer Pyrotechnics Inc. was established by uniting three best fireworks factories in Liuyang and become an industry leader providing the world with the availability of choice and brilliance, our products cover all categories of fireworks including consumer fireworks , display pyrotechnics, and other related products.
Our team believes that it is our innovation, service, experience, knowledge of your market needs, understanding of fireworks regulations in your country, and our products' superior packing and performance that sets us apart from other fireworks suppliers.
Our company has established good business relations with most of fireworks factories in Liuyang, LiLing, and Jiangxi. We know where to find the best products at competitive price. Furthermore, our staff are well trained and can communicate fluently with you so that your requirements can be understood completely without any faults caused and will make ordering an easy and pleasant experience.
Our goal is to continue to develop innovative new items for the worldwide market, and supply you fireworks with highest quality at most competitive prices.
Ziyunge Arpartment,Guizhai East Road,Liuyang City,Hunan,China (410300) | +86 731 83673695 | skypioneerfire@gmail.com
Copyright © 2016 Sky Pioneer Fireworks Co., Ltd.. All Rights Reserved.